A Learners Guide for Startup Marketers To Have An Edge With PPC
November 4, 2015
2015-11-04 7:45
A Learners Guide for Startup Marketers To Have An Edge With PPC
A Learners Guide for Startup Marketers To Have An Edge With PPC
For startups, when looking for a marketing edge, many will turn to pay per click advertising (PPC) to drive instant targeted traffic to their websites and drive their online sales. As the startups begin to set up their shop, promote and sell their products, PPC can be overwhelming. Here's the thing with PPC: it is a live-action and real-time slugfest.
When a new idea is being tested before being launched in the market, there is always a time constraint to wait for a search engine campaign to kick in and deliver organic traffic. While it might seem that PPC could be pretty straightforward, it is and it isn't. With a well-thought out, well-written campaign having the right hacks, PPC advertising can prove to be a fruitful investment to get startups off the ground, where they are using other marketing campaigns to establish and promote their brand in the market. So create a PPC advertising with careful consideration, as everything happens so fast on the paid advertising front, that if you don't get it right you might end up pouring buckets of money and burning a hole in your pocket!
As Jonathan Long, founder of Mark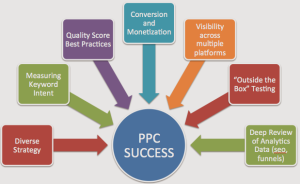 et Domination Media, explained in this article on Huffington Post, PPC advertising truly gives your startup a winning marketing edge. It allows you to turn website traffic on and off, get a solid, user-centric concept of proof for your idea, and accomplish some real market testing.
While building your new business, here are a few ways PPC supports your startup right away.

Swift Validation of Ideas
Dan Norris – author of 7-Day Startup and founder of WPCurve – is an advocate of bootstrapping. He has written about umpteen ways validation of your business ideas won't work. These include coverage in tech press, random people telling you it's a good idea, target market surveys (paid or free), email opt-ins, and feedback from beta users.
There's certainly an easier way to make sure that your idea isn't your average shower room inspiration, and indeed has business potential. Perry Marshall – author of the bestseller Ultimate Guide to Google AdWords – recommends a two-step, tried-and-tested method:
Quickly create a website (use a template from a DIY website builder such asIM Creator), microsite, or even a minimalistic landing page, to test your ideas.
Turn on traffic from paid advertising and validate your business proposition in real-time from users who've never known you before.
Nothing gives you better data than real campaigns optimised for search, display, retargeting or native advertising.
Define Your Goals
As you set goals for your business, likewise it is important for PPC marketing to have a well-defined goal as well. Do you want to bring in new website visitors, drive sales, get the phones ringing or keep customers visiting your site for more? What is your daily/monthly budget for your PPC, what demographics you need to target, what is your competitive advantage and many more. The more specific you can be about your motivations, the more effective your PPC advertising will be. It helps you align you efforts well with your goals.
Quick Wins From Keyword Research
Startups have cash concerns and often their marketing budget is fairly limited. But you can cash in on the available opportunities, as budget constraint doesn't imply lost opportunities.
If you want to reach people looking for the products that you offer, you need to know the keywords that your potential/target customers are likely to employ when searching for your products or services. You need to put yourself in their shoes and do some deep thinking. Your keyword selection will either make your campaign win or lose. You have to use creative methods and not accept what keywords tools throw at you. While you carefully set your keywords, avoid words and phrases with broad match and broad meaning and zero in on specific terms and queries tightly themed around your ideas, offers, products and services.
Example: If your startup is coming to market with a revolutionary "red widget" then you would want to avoid the keyword "red widget" and target long tail variations of the keyword such as "where to buy red widgets" and other phrases that are buyer keywords.
 Create a gripping ad copy
Build text ads around attractive, specific and relevant words. You want to highlight what makes you unique, empower customers to take action, match your ad to your landing page and include at least one keyword. You can also use location extensions and call extensions to appeal to customers on mobile.
Test and optimize
And finally, PPC advertising requires constant testing and optimization to make sure your campaign is performing as expected.
 Inching Ahead Of The Competition
It is important to understand the market, who your competitors are and what they are about. It is an ongoing process. The next step is to carry out a competitive analysis so that you can identify opportunities.
PPC campaign management is not just about researching and identifying keywords, launching campaigns, but analyzing and understanding your competition. Dive into your competitor's keywords and their landing page.
In a way, you could call it a process of revelation. You might discover additional search terms to target and might find out flaws with their approach that you can improve on. You'll have to mine, discover, sort and reuse all the keywords that you'd have "somehow missed" during your planning phase.
While analyzing the market as a startup, where you are going to have competitors, don't waste your precious time with those that aren't really competition. Pick the high rankers and study them well.
Analyse Your Conversion Data
The most interesting part is that you can measure your campaign at every step and make changes to it. Conversion tracking allows you to see how effective your pay per click advertising is, and identify what is working and what isn't. Track your conversions from day one once you launch your ad campaign. You can find your ROI and optimize your spends.
When you dive in to your conversion data, you can see which keywords are attracting more traffic to your website and which are leading to more conversions. Moreover, the data that you get from this measurement not only helps you run your PPC campaign effectively, but also gives you an insight about your target audience and helps you rephrase your messaging accordingly on various platforms.
 Continued Campaign Optimization
You will need to constantly optimize your campaign to keep it performing as expected, but you also need to keep up to date with pay per click advertising in general. There are constantly new changes to the popular platforms, and having that knowledge allows you to keep your campaigns performing at the top level.
There are several tools and software that are designed to help you manage your campaign, but they don't do the work for you. They assist you, but you have to dive right in and make strategic changes and continue to adapt to be successful.
PPC advertising is not as simple as it may initially appear. If you do not set your campaign up properly it can lead to a complete depletion of your advertising budget without producing any results. It requires constant monitoring and adjustment, so if you can't devote the proper time towards the campaign you will want to consider hiring a professional agency to manage the entire PPC campaign.
National Institute of Digital Marketing
Branches:-
BTM:
| | |
| --- | --- |
| Address: | No. 23, BHCS Layout, 1st Main, Bannerghatta Road, BTM 2nd stage, Bangalore 560076 |
| Email: | info@nidmindia.com , nidmindia@gmail.com |
| Phone no: | +91 7760712699, +91 9591595919 |
Marathahalli:
| | |
| --- | --- |
| Address: |  2nd Floor, T.Nathan, 104, Ananada Nagar, Marathahalli. Opp Kalamandir |
| Email: | info@nidmindia.com , nidmindia@gmail.com |
| Phone no: | +91 7760712699, +91 9591595919 |
A Learners Guide for Startup Marketers To Have An Edge With PPC