Benefits Google My Business for Small Businesses
August 11, 2021
2021-08-11 10:56
Benefits Google My Business for Small Businesses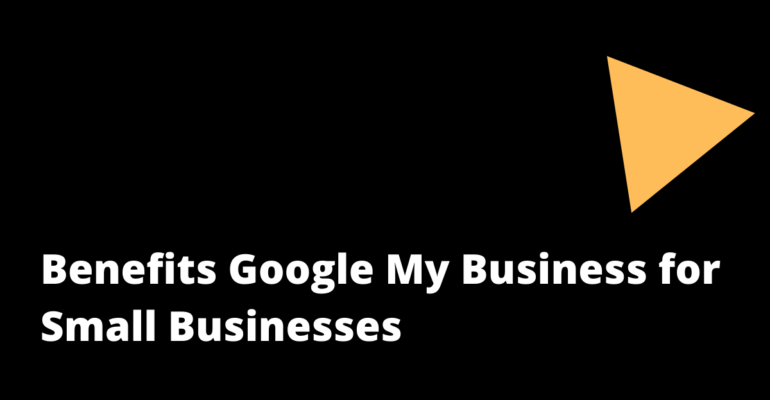 Benefits Google My Business for Small Businesses
Google is becoming an increasingly important part of how people find products and services in their local area. Google My Business (GMB), a free tool that allows businesses and organizations to manage and maintain their online presence on Google, is something you may not be aware of. Your Google My Business profile can be used to increase your online visibility if you're a business owner.
Let's discuss why Google My Business is important, Google My Business optimization tips, and Google My Business updates 2017 that will help you stay current on the latest changes.
What are the benefits of Google My Business for Small Businesses?
Many people turn to the internet multiple times per day to find useful information to make their lives easier. Google My Business is Google's main search engine. It allows businesses to stand out and make their mark. Whether through a search result or a maps query, over five billion searches are made each day through Google. This means that your Google My Business profile is visible to a wide audience. Google is now a verb and a noun. This means that you can make a huge impact on how Google displays your business.
Google My Business Is Cost-Effective
GMB, a free listing for businesses on one of the most popular search engines online, puts your business in front of many potential customers. Many other directories offer similar services to GMB. These listings come with a cost, whether a monthly fixed-rate or a yearly one.
Potential clients can easily access your GMB listing to find out hours of operation, phone number and directions. All this is at no cost to them. GMB profiles give potential clients a glimpse into your business, including your most busy hours and review ratings. You can use this valuable resource to help you direct your resources if you're starting or have a tight budget.
Visibility in Google Search & Maps
Your profile on Google My Business has the greatest benefit: it can be found in the top search results. GMB profiles are listed in the Local "3-pack" and Google Maps search results. The first three listings of a Google search are usually reserved for Google Adwords advertisements. Also known as "paid search", The next step is typically a map showing three local results highlighted (hence "3-pack"). The "organic" results will appear.
The Local 3-pack was once a list of seven-ten results. To better serve mobile users, who increasingly look for nearby results on small screens, the number of results has been reduced to three. The Local 3-pack is visible in an important and prominent area on Google's search results page. Your Google My Business listing contains information about your company and organization that appears in the three-pack.
Your GMB profile can be included in the Local 3-Pack, which can help you generate revenue by ensuring that your business is prominent in search results. Your Google My Business listing costs less than paid ads that appear at the top of search results.
The Ads above the Local 3-pack are Cost-per-Click ads. This means that every time a user clicks on an ad, the advertiser must be paid a set amount. Depending on their business category and competition, some advertisers spend thousands of dollars each month on paid search ads. Your business may not appear in search results if it has a well-optimized GMB profile.
Optimizing and Claiming your Google My Business Profile
Optimized and current GMB profiles signal to Google that they are relevant to users looking for your product or services. This can allow you to be included in the Google local 3-pack. You can optimize your GMB profile with a few simple steps.
It would help if you first claimed your Google My Business profile before you can optimize it. Check whether you have already claimed your business by going to Google My Business and clicking on Start Now. Sign in to your Google account to verify your business. Next, enter your company name into the field next to your country's map. Confirm that the owner of the business is authorized.
Once you claim your listing, it is important to ensure that your information is accurate and current. This includes checking that your operating hours are correct, your service category is correct, and you have no payment methods errors.
After reviewing your business information, ensure that your company name, address, and phone number (also called NAP) are consistent across all of your online profiles, including Bing, Yelp, and other industry-specific websites.
Having inconsistent information confuses potential customers and negatively impacts your ability to rank in searches.
After verifying the details of your company, it's time to add images that help potential customers "see" what your business does.
To make your business profile stand out, use high-quality photos of it. Select pictures of the inside of your business, your staff members, what your company looks when you drive up, and other photos that can help customers choose your business over the competition.
What is important to potential customers? Online reviews. If you don't have any reviews, try building a strategy to get reviews from your clients.
These endorsements will set you apart from other businesses in the industry. Your company's star ranking appears alongside your address and name in the 3-pack.
This shows how important reviews are to potential customers when they make purchasing decisions.
Google Posts
One is the ability to create Posts for businesses. Companies can use Posts to promote news, announcements, events, product updates, and offers. These updates will appear on Google Search and Maps, giving businesses more options to stay in touch with customers.
Google suggests that you think about what you want customers to do before you post. Are you looking to get customers to your brick-and-mortar location? Are you looking to increase awareness about a sale? Are you looking to promote a new service, feature or product? Use high-resolution images to reinforce your message when sharing information via Google Posts.
Your promotion should be described in a title that is between four and five words. You can use as many as 1,500 characters to describe your update or promotion, but keep it between 150 and 300 characters.
Your post should contain a Call To Action. This will include language that encourages the user to take action such as "Buy", "Book online", "Learn more," or "Visit."
These are the key points to make the most of this feature.
•Google Analytics doesn't work well with Google Post, so make sure you attach UTM codes to your posts.
•You can put 150-300 characters into your Post description. However, the "snippet" will only show the first 100 characters (or two lines) of text. So make sure to count every character.
•A post lasts seven days, so make sure to post often to keep your customers informed. An exception is an event-related post that will remain live until the event ends. Your Posts are displayed in a carousel order, from the newest to the oldest.
•You want your images to be "center-weighted" so they don't get cropped at the sides.
•Google Posts does not currently support animated GIFs or videos.
Messaging through Google My Business
Google recently launched a messaging service that allows businesses to chat directly with customers who search for their profile on the search results pages.
Businesses will be able quickly to answer customer questions and help potential customers through this feature. To receive messages, you will need to enable this feature in your Google My Business dashboard.
Google won't share your phone number with users. Instead, you have the option to respond to and receive these messages via SMS or Google's messaging app, Allo. Individuals who visit your Google My Business profile will see the clickable Message icon.
An iOs phone will direct the user to the company's messaging app. You can assign a staff member as a business owner to answer customers' questions.
Google warns users not to share sensitive information via the messaging feature, such as login credentials, social security information, or credit card numbers.
If you don't agree with the messaging, this feature allows you to opt-in or out of the feature.
Google warns users not to share sensitive information via messaging, such as login credentials or social security information.
You can turn off the messaging feature if it doesn't match your business.
Video
Customers and business owners can now upload videos. It takes up to 24 hours for the video content to be available on Google Maps and local search results. The maximum video length is 30 seconds.
Businesses will be able to flag inappropriate videos via their dashboard.
How can you make your business more successful with videos?- Videos increase engagement
An opportunity to show your products and customer service within your business operations.
Videos may be informative about your services.
Videos don't need to be elaborate, but they should naturally show your business environment. These videos should be taken at the business.
Google will remove videos not related to your business location.
Business owners should avoid stock images, stock videos and "marketing bling" videos.
Google Business Video Guidelines include:
Video Max Duration: 30 Seconds
– Video Max File Size: 100 MB
– Video min Resolution: 720p
Google Posts, Events and Offers support videos.
Menus Now Available for Restaurants GMOs
GMB profile owners have access to a menu editor to edit and create menus for mobile. This feature allows business owners to be fully autonomous and not need to use third-party menu services. Owners can now add and edit menu titles, descriptions, prices and break down their menu into sections. You can choose from appetizers, entrees and desserts.
GMB Heatmap Insights
Google My Business Heat Map insight gives business owners more transparency by providing a heat map showing locations where people are searching for directions to their business. This insight allows owners to discover untapped territories that could be potential expansion areas based on the demand for their services.
The heat map displays the most common areas where people use Google Maps to find directions to your home address. You can zoom in and out to see the number of requests broken down by neighborhood or city.
Product Posts
This type of Google Post allows you to highlight your products. Business owners can upload a photo or video to best show the product's features, price range, minimum and maximum price, or range.
Google Offers
Google recently introduced offer posts in May 2018. These posts allow business owners to promote a sale or offer through their business. Business owners have a unique opportunity to get a feature for free that would otherwise cost them money, such as Pay Per Click Ads. Businesses can take advantage of offers for seasonal promotions and service offers.
Offer Posts display:
•Titular of the Promotion
•Time & Start Dates
•Call to Action buttons such as "View Offer."
•You can also add videos or photos.
•Coupon Code
•Link
•Terms and conditions for posting
Add Picture of an Example Offer & a Post empty all by itself.
Service Field Descriptions
Now, owners can add a description of their business to the website. Owners have 750 characters to add a description that provides a summary of your business to users.
SERVICE FIELD DESCRIPTIONS
This service feature description is identical to the menu feature, but it applies to businesses that offer services. Businesses can arrange their services according to Categories and then have sub-services within each category. The following information is contained in each sub-service category:
•Limit 140 characters for item name (or name of service).
•Item Description (Description of Service) – Maximum 1000 characters
•Optional: The item price
Search Engine Results – Your Strategy Should Change
The easiest way to increase your company's online visibility is to create a Google My Business profile. It can be difficult for small businesses to keep track of changes in search engine listings and algorithms. It doesn't matter if you try to keep up with the changes yourself or hire a company to implement your SEO strategy. In today's digitally-driven and constantly changing landscape, it is important to invest in your online presence.