Scope of Digital Marketing In India
July 19, 2021
2021-07-19 10:18
Scope of Digital Marketing In India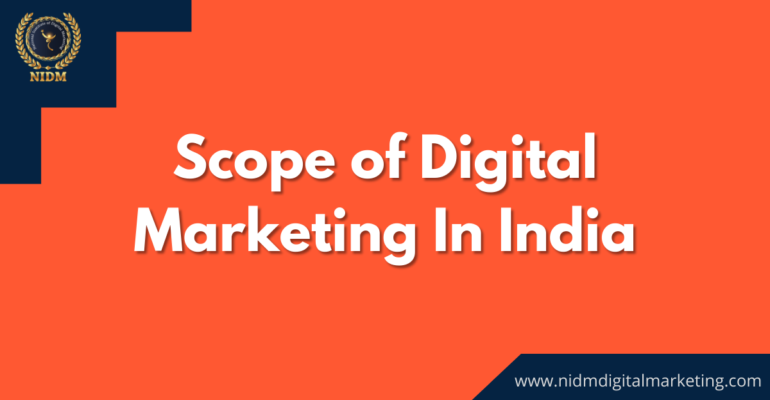 Scope of Digital Marketing In India
Introduction
The 2020 digital advertising market saw a 26% rise in revenue from 2019, reaching Rs. According to the report of a data label-value=" Dentsu Aegis Network," the overall advertising growth in 2020 was 9.4%. Dents Aegis Network. India currently had 700 million internet users in 2020. The number is expected to rise to 970 million by 2025.
This shows the market's growth and the potential for expansion in the coming years. The opportunity is enormous, and marketers' strategies for using it will change everything.
Advertising in the Pre-Internet Era
Advertising was done via radio, billboards, and television in the pre-internet era. Advertising was very different from what it is now. Marketing was dominated by door-to-door advertising and word-of-mouth publicity. Everything changed when the internet was invented. We can now easily promote our product or service to millions without ever leaving the office.
How long do Indians spend online?
Indians now use the internet for almost everything. You can learn online by posting to social media, watching Netflix, and reading e-books. You can also play video games online. Indians are spending more time online than ever before. India is now outgrowing China in terms of internet consumption.
Television is still the most preferred entertainment source. However, 58.7% prefer TV to other sources. Digital is also on the rise. Indians use digital for around 1 hour 29 minutes per day.
They spend the majority of their digital time on their smartphones.
The time that people spend on smartphones has increased with the availability of cheaper smartphones and data plans.
Targeting Customers with Precision
Everyone may not see your ad. Why announce your product to the entire world when you can only show it to a select group of people? This was made easier by big data, which allows you to analyze past trends and user behavior.
Social media platforms and search engines have updated their algorithms to show your ad to the right audiences to keep advertisers happy.
This is especially useful for small businesses and those with tight budgets. Digital advertising is easier to calculate ROI than traditional advertisements.
Small Companies: Digital Marketing Role
Due to their limited resources, small businesses tend to be more frugal in the beginning stages. Because they don't have the resources to spend as much on marketing campaigns and budgets as larger companies, small businesses are often less able to invest in their marketing. Online advertising platforms offer effective tools for all sizes of companies, so smaller businesses can make a name and stand out.
Gartner's Digital Marketing Spend Report showed that as many as 40% of respondents claimed they had made significant savings by using digital marketing to promote their products or services.
Startups can use SEO and email marketing to build a brand easily.
Digital Marketing Trends
Digital is one of the most dynamic topics. AI was not a possibility a few years back. But now, it is a central part of global industry and business.
Programmatic advertising allows you to use AI to automate your ad buying. This helps you target your audience.
Conversational marketing allows customers to make one-to-one contact with digital marketers.
Voice searches and smart speakers are changing how people search. Optimizing your content to voice searches can open up new opportunities for your business.
Browser push notifications, AB Testing, and interactive content are just a few of the many features available.
Digital marketing is expanding because marketers have new ways to target their audience.
Future Growth of Digital Marketing
2023 will see almost 666 million active internet users in India. According to Global Data's report, India's e-commerce market will reach 7 trillion rupees in 2023 due to lockdowns.
A Goldman Sachs report estimates that the Indian market's digital marketing job opportunities will reach $160B by 2025. This is three times the current value.
By 2020, digital marketing will create 20 lakh new jobs.
By 2021, 800 million internet users are expected.
Your ability to grow your salary depends on whether you are a digital marketer or want to become one. To be successful, you must keep up with the industry and learn new things. You will stop learning the fast-paced industry if you stop learning.
Get Ready for The Future
Digital marketing will not slow down, but it will accelerate. You can grow your business by implementing the best strategies and using the most recent technologies.
The digital industry is constantly evolving with Artificial Intelligence and Programmatic advertising, Chatbots Personalization & Conversational Marketing, and Micro-moments. If you want to be successful in this field, you must keep up-to-date with yourself and your team.
Conclusion
Change is an integral part of life. Digital marketing is no exception to this rule. If you want to be successful in the market, you must embrace new technologies.
NIDM is a fantastic place to begin your digital marketing journey if you're interested in learning more about digital marketing.
The NIDM's digital marketing course lasts for four months. The course is broken down into modules that include case studies and real industry projects. These topics include SEO, SEM and social media/content/email Marketing, marketing analytics, and campaign management.