Why Digital Marketing is Important for Business?
July 15, 2021
2021-07-15 7:57
Why Digital Marketing is Important for Business?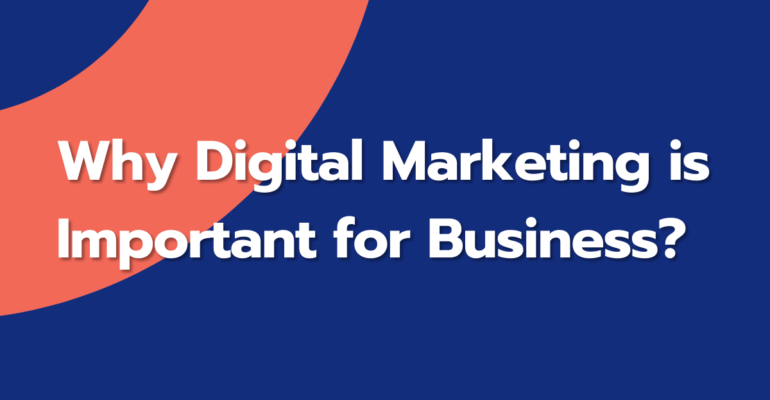 Why Digital Marketing is Important for Business?
Small businesses often focus on getting their first customers when they start. They might rely on traditional advertising methods such as coupon mailers, print ads, and signs posted on the side of roads. They might trust that customers will find them because they are offering a quality product or service.
This strategy can bring in some business but it is not the best and easiest way to go. Online prospects are a huge market for small businesses. This vast market should not be overlooked by any small business, regardless of its age.
Online Marketing Benefits
You can reach a larger number of potential customers online than you would be able to locally. Digital marketing allows you to reach a large audience at a cost-effective, measurable price.
Online marketing also offers other benefits, such as:
• Your ability to communicate with prospects and find out what they want
• Access to a global market
• Traditional marketing methods can be more expensive, but you can reach more customers and save money.
• You can build brand loyalty by getting to know your audience.
• Tracking your marketing responses can be done immediately
ARE YOU PUTTING DIGITAL MARKETING OFF?
You would be foolish to put off investing in digital marketing. Although small business owners might have different reasons for avoiding this type of marketing, the bottom line is that procrastination will always be procrastination.
Sometimes small businesses believe they don't have enough time or money to compete online. They believe they cannot face too many challenges at once and are still learning about business. They may choose to take it slow and stick to a few basic forms of advertising in the hope that their business will grow over time.
Some may think that waiting for customers to come is the best strategy. They may believe they only need to have a few customers because they are a small company.
This is not a good strategy. It is impossible to predict whether your business will attract customers by simply being there. Even if it does, it may not be as profitable as you would like.
Your customers are online
Is it because you don't feel ready for digital marketing? Are you assuming that you need to take some time to get started before you can figure out digital marketing?
This approach has the problem that potential customers and customers may already be online. Right now. Today. You have a good chance that they already are looking for a similar business to yours. However, if they don't find you easily they will likely choose another.
This is how people do business today. If someone is interested in your business, regardless of whether they are in your particular niche or curious about your brand in general, they will first research online to find out more about you.
They expect to find your website and social media presence. They might be searching for reviews to see what others have to say about your company and whether it's a good place.
Potential customers may not be able to find you online and conclude your business isn't legitimate. It is possible that many of these prospects will not take your business seriously, and will move on to other businesses.
They won't be coming back once they make that decision.
Your Competitors are Online
You must pay attention to your competition and learn from them if you want your business to succeed. Your competitors are not someone you want to defeat, but people with something to offer you.
You can see what your competition is doing and get a sense of what is successful and what isn't. Your competitors are likely to have a website presence, regardless of what type of business they work in. What type of content are they using? Are they blogging or using lots of graphics and videos to share their content?
What is their unique brand message? How do they interact with their audience? Are you confident that you can do better? If you don't take part in the digital competition, it's impossible.
Your business may not be in the running if your prospects search for businesses similar to yours. If they don't know anything about you, prospects won't choose you. This scenario means that your competitors are just ahead of you, regardless of whether or not they have a website that is effective and clear.
Make yourself available to your customers
It is clear that online shopping is the most popular place for consumers to search for what they need. Google is the most popular search engine for any product or service. You won't be found online if you don't have an online presence.
Even if you have an online presence, your competitors might be easier to find. You may not be found. Learning search engine optimization, which is not only about creating a website but also about being the first person that prospects find in a google search with keywords that lead to your business, can be a strategy that will help you get ahead of your competition.
You should make it easy for prospects to find answers online to simple questions such as where you're located, what hours you work, and what area you specialize in. Your prospects will be able to compare your website with those of your competitors to see how they differ in terms of hours, pricing, special offers, etc.
It is therefore crucial that you know the activities of your competitors. Prospects are already comparing you to your competitors. They already compare you to each other. What are they discovering?
Customers will come to you
Digital marketing is a way to reach people with your products or services. Your business's reach can extend far beyond your local boundaries. If you only cater to local prospects, your business can reach a wider audience.
Your business can have a web presence that allows you to be accessible even when your office is closed. Your customers will be able to reach you at any hour of the day or night by creating a welcoming environment.
Prospects and customers can email you with any questions or browse your stock at their leisure. Customers who are unable to travel to you due to disability or transportation issues can still do business with us.
Learn about your target audience
You can engage with prospects through digital marketing. It is possible to get to know your prospects and find out what they want. You can have a conversation with them on social media or via a blog. You can either take a survey or get to know them. Pay close attention to their responses to surveys or comments.
You can interact digitally with people to begin to understand their needs. What is their pain? What keeps them awake at night? What are their problems? Digital marketing gives you the tools and methods to find out who your customers are, rather than guessing.
This is how you can build relationships with your customers. You are more than just a business. You become a trusted partner. Businesses that have been purchased from are more likely to be bought by people.
Digital marketing is more cost-effective than any other form of advertising. Many small businesses try to do as much as they can with a limited budget. Digital marketing allows you to reach large audiences and communicate your brand even if your budget is tight.
Digital marketing is much more affordable than advertising on TV, radio, or via direct mail. It also reaches a wider audience. Your small business's success will be enhanced by digital marketing.